The World Cup Conflict: An Israeli Journalist in Qatar
Moav Vardi, Chief International Correspondent for Israel's Kan News, shares what it's been like covering the World Cup from Qatar for Israeli TV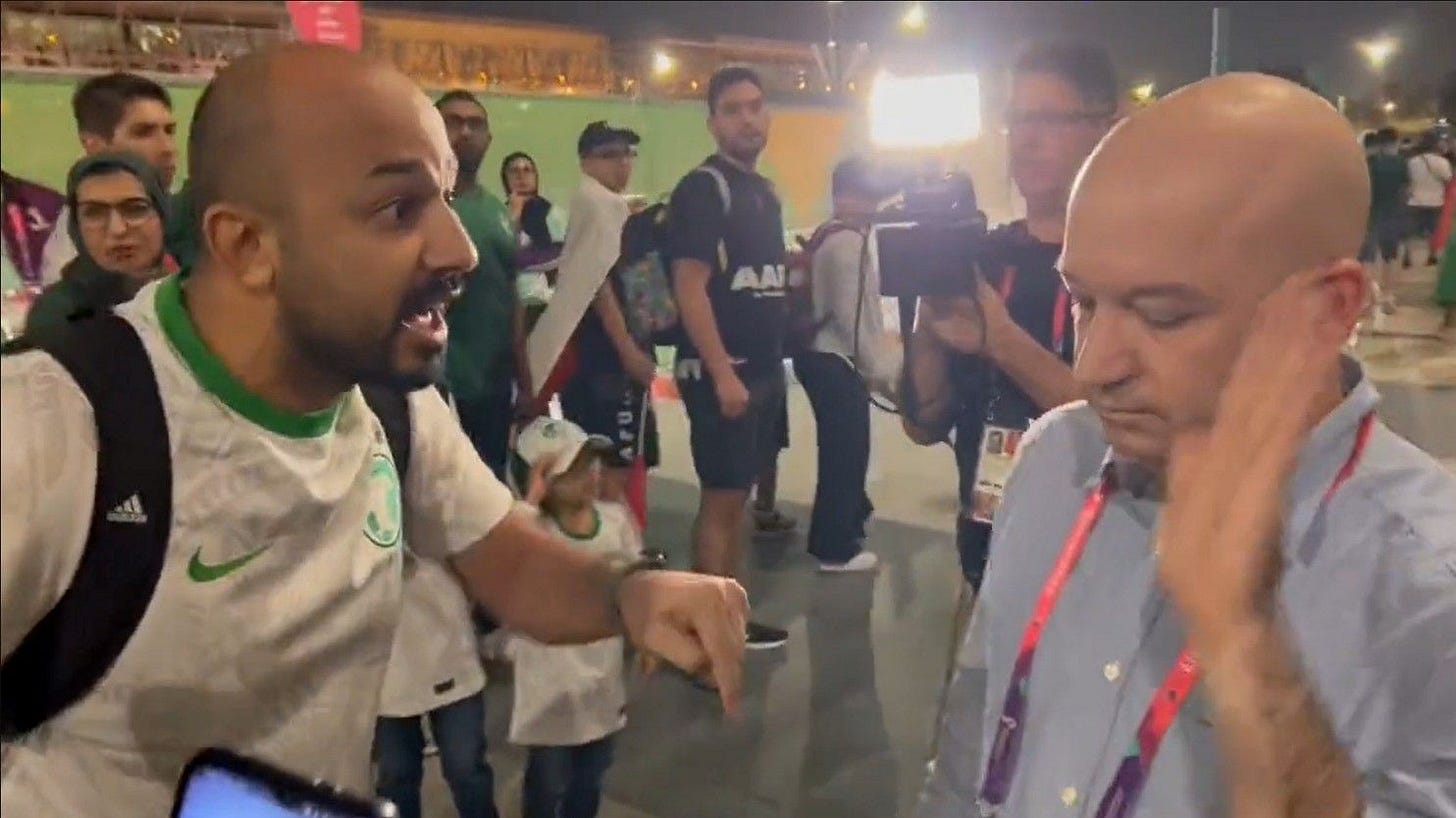 Moav Vardi gets accosted by a spectator at the World Cup in Qatar.
I.
In late January 2011, I travelled to Cairo to cover the demonstrations protesting Egyptian President Hosni Mubarak's regime.
Within a short time, the hundreds of thousands of Egyptian citizens who took to Tahrir Square in the center of the capital would bring about the overthrow of the government and the beginning of the "Arab Spring."
Alone but for my camera, I walked around the square amongst the protesters. As would any journalist, I tried to talk to them and understand what they were thinking and feeling. At the time, the peace agreement between Israel and Egypt was over thirty years old. Quite some time. Still, it was clear to me that I could not identify myself as an Israeli in Tahrir Square.
Among other things, the demonstrators were shouting anti-American and anti-Israel slogans. As far as they were concerned, the corrupt Mubarak regime had betrayed the Egyptian public to strike immoral deals with the United States and the "Zionists." I befriended a young woman who was among the protesters, and after some time I told her that I was Israeli. She warned me, unequivocally, that if the people there knew I was from Israel, my personal safety would be in danger.
Several days later, I was arrested by Egyptian soldiers who learned that I had photographed military forces in the city. They were displeased. Very displeased. As they searched my equipment, they learned very quickly that I was from Israel.
Keep reading with a 7-day free trial
Subscribe to State of Tel Aviv to keep reading this post and get 7 days of free access to the full post archives.