3 Generals and a PM Debate Israeli Policy on Ukraine-Russia
Moav Vardi speaks to 3 of Israel's top generals, plus a former prime minister, about balancing values vs. interests with Ukraine-Russia policy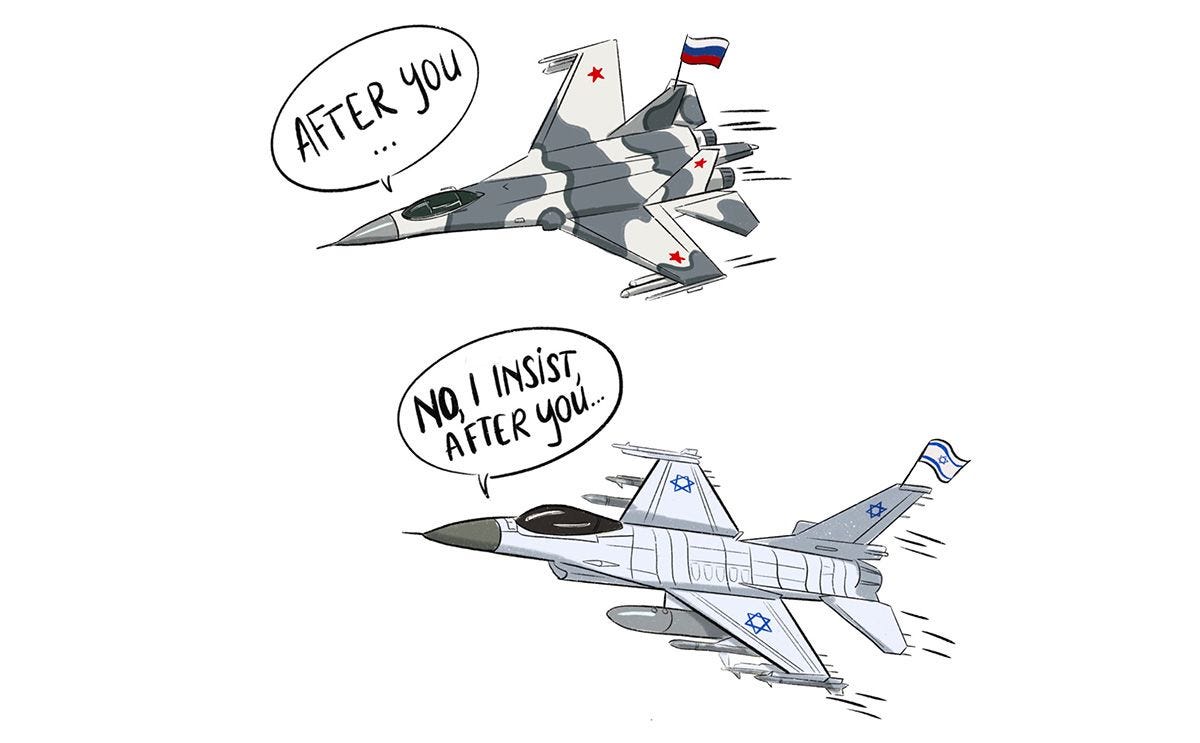 Note From the Editor, Vivian Bercovici:

I recall a meeting during my tenure as Canadian Ambassador to Israel when a senior defense official said, wryly: "There are lots of traffic jams these days in the skies over Syria."

These were the early operational days of the "deconfliction mechanism" agreed upon between Israel and Russia. Moav Vardi puts this extraordinary period into context – when Israel and Russia coordinated aspects of the military activity in the Syrian skies – and why it may be imperilled.

Moav discusses the delicate status quo holding between Israel and Russia – for now – which may well have hit a rough patch. This superb analysis is a must-read to understand the complex relationship between Israel and Russia and the potential impact on the world.

And if you missed Moav's last piece on the mediation efforts of then-PM Naftali Bennett with Russia and Ukraine, you can read it here.

Enjoy.
On the morning of Thursday, March 3, exactly one week after the Russian invasion of Ukraine, a small group of worshippers gathered at the Western Wall in the Old City of Jerusalem. As always, they recited prayers facing the immense 2000-year-old stones. But on this day, they were also draped in the Ukrainian flag.
That same afternoon, a number of foreign journalists were taken to a secret bunker in the Ukrainian capital to meet with Ukrainian President Volodymyr Zelensky. In response to a question from Israeli reporter Itai Engel about his expectations of Israel, the President replied: "Today I saw a very interesting picture. Hassidic Jews, all kinds of people, standing at the Western Wall, wrapped in the yellow and blue Ukrainian flag."
Zelensky, who was raised in a Jewish family, said to the journalists: "I was amazed."
And then came a less congenial reply: "I spoke with Prime Minister Bennett, and I do not feel he is wrapped in our flag." And, so, it seemed that the unvarnished response to Engel's question was one of bitterness.
Kyiv was clearly displeased with Jerusalem's conduct vis-à-vis Ukraine.
Zelensky had good reason to feel this way. For several weeks following the outbreak of the conflict between Moscow and Kyiv, the Israeli government refrained from publicly criticizing Russia over its invasion of Ukraine. Even as the magnitude of the intentional killing of civilians and the destruction of cities and civilian infrastructure by Russian soldiers became undeniable, Israel was critical of the horrific murders of civilians but stopped short of calling out Russia by name for being responsible.
In the international arena, too, while Israel voted in favor of the UN General Assembly's decision to condemn Russia, it refrained from supporting a proposal for a similar denunciation led by the United States in the Security Council. This "double-speak" was noted, with displeasure, by President Zelensky.
"I spoke with Prime Minister Bennett, and I do not feel he is wrapped in our flag." – Ukrainian Prime Minister, Volodymyr Zelensky
The Ukrainian government implored Israel to provide military aid and equipment to resist and repel Russian attack.
Yet it took two months for helmets and protective vests that Israel had agreed to supply to Ukraine at the outset of the war to arrive. Furthermore, the equipment was intended for use by civilian rescue forces, not the military.
Perhaps most galling to the Ukrainians, as well as many Israelis, was the refusal of the Israeli government to explicitly and publicly hold Russia responsible for the invasion of Ukraine; its failure to clearly identify the victim and the aggressor.
On Sunday, April 3, the world witnessed the shocking images streaming from the town of Bucha, near Kyiv, which revealed the results of the massacre perpetrated by Russian forces on Ukrainian civilians. Even still, Israeli Foreign Minister Yair Lapid (who became prime minister last month), remained vague as to who was responsible for the savagery. "It is impossible to remain indifferent in the face of the horrific images from the city of Bucha near Kiev, from after the Russian army left," he said, adding: "Intentionally harming a civilian population is a war crime and I strongly condemn it."
Then-Prime Minister Naftali Bennett  refrained from mentioning Russia by name, saying, "We are horrified by the scenes in Bucha and we strongly condemn them. The images are very difficult. The suffering of Ukrainian citizens is immense, and we are doing everything we can to help."
This inelegant two-step by Israel did not go unnoticed by the Ukrainians. In fact, it enraged them.
Why, they must have asked themselves, does Israel insist on maintaining Russia's dignity? Why is it so afraid of offending Putin?
"The United States isn't sending troops to Ukraine either and the Europeans have not yet completely ceased the purchasing of gas from Russia. Every country balances its own values with its fundamental interests." – Maj. Gen. (Res.) Yaakov Amidror
I. January 31, 2013: A Turning Point in the Russia-Israel Relationship
To understand Israel's conduct vis-à-vis Russia in the current Ukraine crisis, we must go back nine and a half years. Late at night on January 31, 2013, fighter jets attacked a convoy of military vehicles in Syrian territory carrying advanced weapons – intended for Hezbollah – from the Damascus area toward Lebanon. It was the first attack carried out by Israel in Syria since the First Lebanon War in 1982, and it heralded a new mode of combat by the Israeli Air Force. Since that night, Israeli fighter aircraft have carried out hundreds of sorties in Syria as part of an ongoing effort to manage two strategic threats to Israel, both related to Iran's presence in Syria:
Keep reading with a 7-day free trial
Subscribe to State of Tel Aviv to keep reading this post and get 7 days of free access to the full post archives.